Shopping for swim suits with tweens and teens is a whole experience. They're at the ages where they want to choose all of their clothes, which is amazing seeing them express themselves via fashion. But finding great quality swimwear with a variety of styles has become something we've had difficulty with over the last year. Spring break is officially over and thankfully we didn't travel because the girls outgrew their swimsuits! Furthermore, with summer around the corner, it's time to get some shopping done. The good news for a teen girl is that there are some great options these days for both two-piece bikinis and one piece suits. They didn't have all these options when I was a tween!
Here are our favorite new swimsuit options in teen fashion:
Fit
Firstly, this is the most important category. There are a lot of cute swimwear options, but we find they have really cheeky bottoms. For extra coverage and comfort, we tend to go for features like adjustable straps, thicker fabric and even a tankini set. I love all of the super cute cover-ups they sell for your teen daughter. I even want them myself because not only do they have great coverage, but adorable styles and fun prints. You already know I love florals for spring and summer!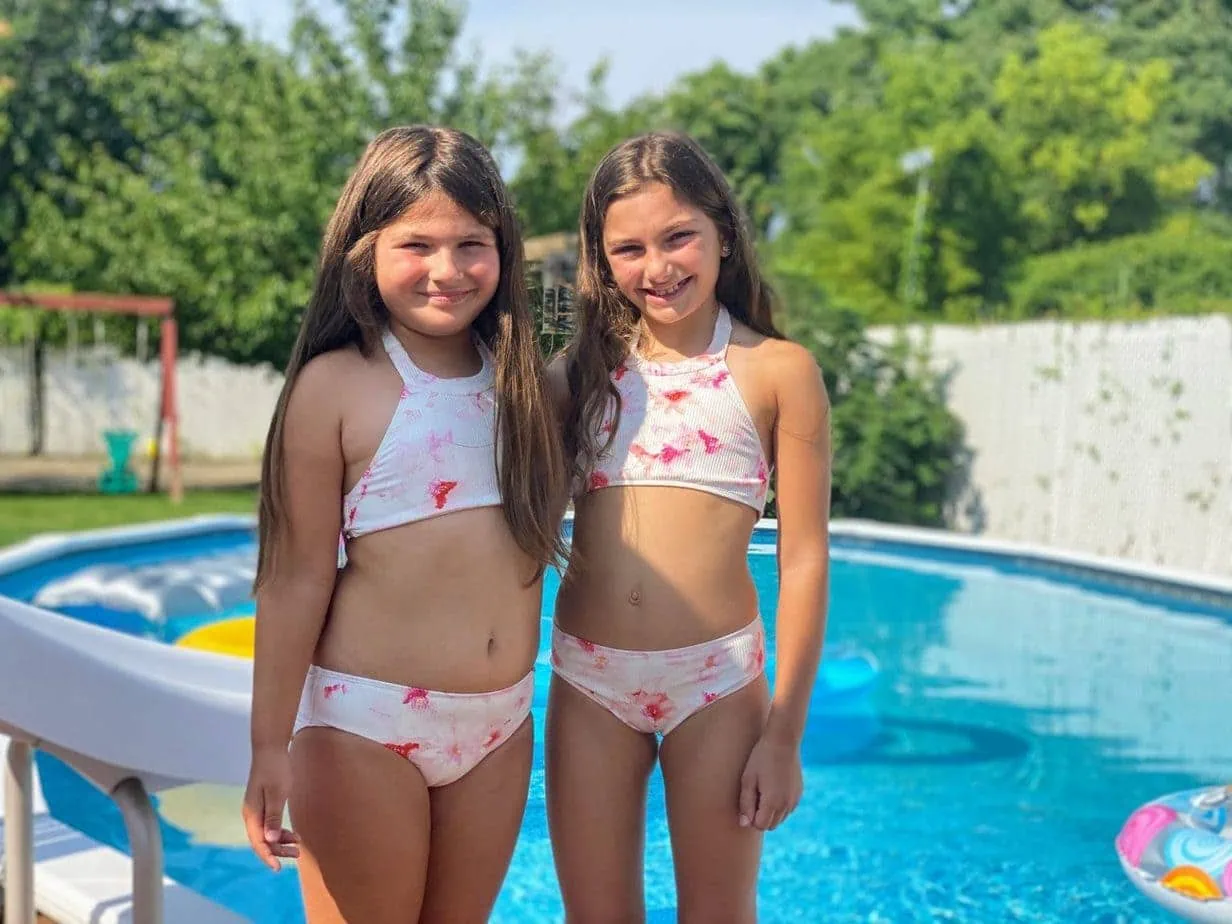 Comfort
Furthermore, my girls' fashion sense are amazing so I always love everything they pick out. Henceforth, we are still in the phase where they will wear a matching suit with me for special occasions, especially now that they are almost my size! Moreover, making sure it fits them well and they are comfortable are our first things we look for when choosing adorable options from the best swimsuit brands within tween sizes.
Style
Secondly, style is pretty high up on my daughters' list when they shop. I can't blame them! It's not all about fun patterns anymore, it's about what's on trend and honestly, when it comes to swimwear, I feel like trends stick for awhile. Specifically, if you're into more coverage, there are a lot of modest swimwear options available, but I would say girl clothing brands are striving to replicate adult looks. The 9-12 age range is prime tween time and the swimwear sometimes looks like it's made for a 21 year old. Furthermore, I understand getting older and the girls wanting to dress like tween girls now rather than kids, so I let them have as much freedom as I can. One piece swimsuits are adorable these days with the cut outs and bikinis are super cute with ruffles!
Practicality
Finally, we are in the early stages of puberty and that is a fear of swimwear for a lot of young girls. Specifically, I'm really happy to see that swimwear brands are coming out with suits that have padding in them to act like an absorbent pad. So you don't have to worry about tampon fears or missing out on swimming because of it. These are great especially for day camp and sleepaway camp. I'll link a few of our favorites below, but these are incredibly practical for this age group.
For more swim content, visit here!